Our first stop on the JET Study tour was the Fukushima Agricultural Technology Centre. The total area of the site is a whopping 55.6 Hectares, with roughly 32 Hectares dedicated to farmland, and 17 dedicated to research and visitor facilities.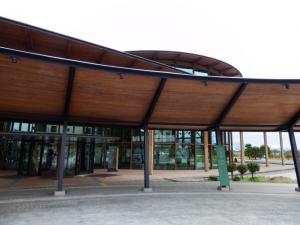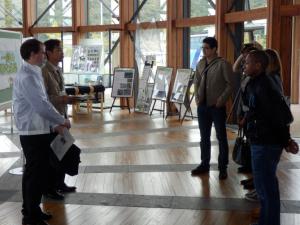 The centre acts as a hub for agricultural promotion of Fukushima Prefecture through the coordination of 5 functions. These functions focus on supporting regional agriculture, fostering and supporting advanced farmers, technology development and plan coordination, and exchange with the citizens and release of information.
 The function that was focused on in our tour was the support of the safety of agricultural products and the efforts being made to keep agriculture environmentally friendly. We were introduced to the emergency environmental radiation monitoring of Agricultural, Forestry and Fishery Products. The main purpose of the monitoring is to confirm the safety of the prefecture's agricultural products, and provide accurate information for consumers.
 The target of monitoring testing includes all agricultural, forestry and fishery products of the prefecture aimed for sale. Monitoring is carried out on vegetables, fruits, sea foods, mushrooms, edible wild plants, honey, grain, raw milk, meat, chicken eggs, and feed crop.
 The samples tested are shipped in from all over the prefecture, and analyzed using 10 Germanium Semiconductor Detectors (As they are made of lead they weigh a whopping 1.5 tons! Apparently they used cranes to get them into the building.)
 The samples are then cut up into small pieces, put in special containers, and then after being weighed, are tested using Germanium Semiconductor Detectors. If just one of these samples is over the standard value of 100 becquerels/kg for radioactive cesium in food products, then all further products from that area are banned from being shipped. Japans standard value for radioactive cesium in food is ten times stricter than that of America and Europe (Both are over 1000 becquerels/kg)
 Testing results are released immediately (The same day as testing is carried out) and are released to the public by being posted on the web, and through other means.
 Results are then released immediately (On the same day as samples are tested) mainly by posting them on the web,
 A total of 96,924 items were analyzed over the period of March 19, 2011 – September 30, 2013.
 We were also introduced the special breeds of fruit that are Fukushima Originals; these include different breeds of Fruit and Vegetables, Including Strawberries, Pears, Plums, Asparagus. There is also a focus on breeding flowers.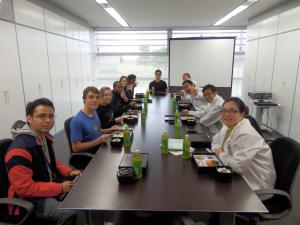 The visit ended with a delicious bento lunch.
 We left the center with knowledge of the efforts being made to assure the safety of the prefectures agricultural products, which would serve as a base to build upon throughout the rest of the tour.
(Posted by:William)