Residents' health survey results
Basic surveys (Estimation of the external exposure doses)
Estimating the external exposure doses in the 4-months period from the occurrence of the nuclear disaster (March 11) to June 11, 2011.
Targeted at approx. 2.05 million residents in the prefecture as of March 11, 2011.
Number of those who responded to the self-administered questionnaire: 566,773, as of June 2017 (Response rate: Approx. 27.6%)
Result of the estimation of external exposure doses
[Entire prefecture] Proportion of the values from 0 to 2 mSv: 93.8% (Except for those engaged in radiation-related work)
Thyroid examinations (Ultrasonography to examine the thyroid gland condition)
Targeted at residents of the prefecture, who were 18 years old or younger when the earthquake disaster occurred
[ Prior examination ] (FY2011 to FY2013):Completed
Conducted in order to understand the thyroid conditions

Number of subjects: approx. 380,000
Number of those who underwent the examinations: approx. 300,000
[ Main examination ] (FY2014 onwards)
In FY2014 and FY2015, all the subjects were examined to understand their thyroid condition after the prior examination.
After that, the subjects are examined every 2 years until the of age 20. Subsequently, they are examined every 5 years, that is, at ages 25, 30, and so forth.

Number of subjects: approx. 380,000
Results
[Reference] Comparison with the data of other prefectures
* The test result on thyroid abnormality rates in three prefectures
Source:Japan Ministry of the Environment press release materials
Internal exposure examination using the whole body counter (The internal exposure dose of the whole body is measured.)
By using the whole body counter, the radioactive cesium taken into the body from the atmosphere, food, drinks, etc. is measured to estimate the approximate dose received during one's entire lifetime.
Results of the examination conducted by the prefecture
* Committed effective dose: The approximate internal exposure dose received during one's entire life
*The examination results have been below 1mSv since March 2012.
[Unit: person / Cumulative number of persons examined in the prefecture: 330,850 (June 2011 to April 2018)]
Less than 1 mSv
330,824
1 mSv
14
2 mSv
10
3 mSv
2
Medical examination (General examination items ,Examination of the differential count of leukocytes)
Number of subjects: 215,315
Number of those who underwent the examinations: 48,889
Participation Rate: 22.7%(Confirmed report levels on March 31, 2016)
Mental health ,Survey on pattern of living. (Questionnaire to the residents of the evacuation zones)
Number of subjects: 208,433
Number of valid respondents: 44,952
Response rate: 21.6% (March 2016)
Questionnaire to expectant and nursing mothers. (Questionnaire for those, to whom the maternity passbooks were issued)
Number of subjects: 14,569
Number of valid respondents: 5,868
Response rate: 40.3% (March 2016)
Related links: Fukushima Medical University's website in English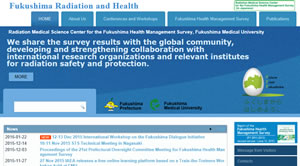 Development of the most advanced center for radiological research and medical care
To protect the healthy lives of residents now and in the future, a cutting-edge research and medical care center has been established.
Fukushima Global Medical Science Center
Place: Fukushima City (Fukushima Medical University)
Completed in December 2016
Related links: Fukushima Global Medical Science Center Basic Concept