What is the Fukushima Green Reconstruction concept?
Protect, polish, connect to the future.
Blissful Fukushima
"Fukushima Green Reconstruction Concept" is
Based on the needs of each part of the prefecture
Fukushima Prefecture and the Ministry of the Environment have jointly summarized the basic direction of the efforts.
"Protect", "polish", "to the future"
We have formulated a basic policy from three perspectives.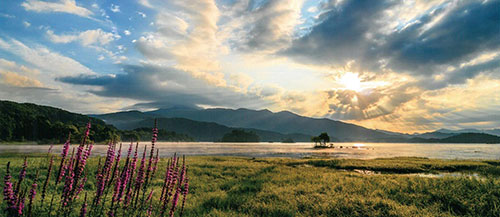 protect
Appropriate conservation of the natural environment and
By fostering a sense of nature conservation
Bringing the blessings of nature to the next generation.
Polish
Improving the attractiveness of natural parks
By creating a mechanism to go around
Recovery of the number of users and expansion of the exchange population,
And to reconstruction.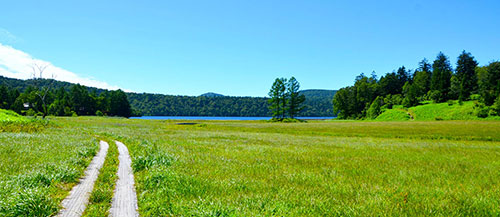 To the future
To become a sustainable natural park by examining and constructing a mechanism to reduce the environmental load.
Click here for details

Fukushima natural park promotion movie
We created a natural park promotion movie to promote the appeal of the prefecture's national and quasi-national parks!
Asobiba-Fukushima Magnificent Nature PR in Fukushima Prefecture Movie


Bandai-Asahi
National Park
Echigo Sanzan-Tadami
Quasi‐National Park

Echigo Sanzan-Tadami Quasi‐national Park Incorporation Commemorative Symposium
[YouTube distribution]

Held on Wednesday, July 13, 2022
(archive distribution)

Fukushima Green Reconstruction concept Initiative
Fukushima, Perfect View


Superb view pilgrimage, Fukushima viewpoint 50

There are 15 natural parks in Fukushima prefecture,
It shows a variety of expressions in each of the four seasons.
A dynamic landscape created by a volcano,
Local line scenery that invites nostalgia,
Flower field in the high moor ...
Encounter a spectacular view of Fukushima that you haven't seen yet,
Would you like to go on a blissful journey?
Click here for details
Bandai / Inawashiro National Park Cycle Way

While running a cycling course such as pottering to hill climbing around Bandai-Asahi National Park
Beautiful scenery and local culture,
Delicious gourmet food, etc.
Do you not enjoy the charm of the area$2
Click here for details
Aizu Trail
A quaint village road and a satoyama road with a rural landscape,
Former highways, etc.
Aizu's nature and unique culture,
It connects the "roads" where you can feel the warm hospitality of the people who live there.
By all means, at walking speed
Please feel the rich Aizu on your skin.
Click here for details
Superb view activity

Fukushima Prefecture, which attracts the grace of nature in each of the four seasons, has Mt. Bandai and Lake Inawashiro, which are said to be "treasure mountains."
Trekking around the spectacular scenery in the green season,
At Lake Inawashiro, lake bathing and water sports,
You can enjoy fishing and so on.
Click here for details
Fukushima recommended spots

There are many other attractive places to visit in Fukushima.
Recommended by each municipality,
Here are some of the best spots.
Click here for details

National Park / Quasi-National Park of Introduction
Liaoyuan flowers that continue to preserve their ancient appearance,
Volcanic land that cannot be changed
Designation: September 5, 1950 Area: 186,389ha
Yamagata prefecture, Fukushima prefecture, Niigata prefecture
Bandai-Asahi National Park covers a vast area from Dewasanzan, Asahi Mountain Range, Iide Mountain Range, Azuma Mountain Range, Bandai Mountain, and Lake Inawashiro, and is the second largest national park in Japan on land.
Dewasanzan is famous as a place of mountain worship and has a historical charm. The Iide-Asahi mountain range has a highly primitive natural environment, and you can enjoy the mountain scenery surrounded by magnificent mountains, and the flower fields that reach the end of a long approach are full of kindness. The area around the Azuma mountain range and Mt. Bandai is attractive for its powerful landscape of the land created by the volcano and the beautiful and varied landscape of large and small lakes and forests. In addition, it is easily accessible from the metropolitan area, and many people visit it as a recreational area where you can enjoy a wide range of activities such as mountain climbing, nature exploration, hot spring bathing, and skiing. Bandai-Asahi National Park is full of charm, including deep forest mountains, powerful volcanic areas, abundant lakes and marshes, and inherited mountain worship.
In addition, because the park area is vast, there are various mountains that can be enjoyed by beginners to advanced climbers, and many climbers visit.
A variety of natural beauty and majestic cultural heritage woven by mountains, lakes, waterfalls, and moors
Designation: December 4, 1934 Area: 114,908ha
Fukushima prefecture, Tochigi prefecture, Gunma prefecture
Nikko National Park is an old national park that was born on December 4, 1934. The park area spans the three prefectures of Fukushima, Tochigi, and Gunma, with a total area of 114,908 ha. Most of the park area is a mountainous area belonging to the Nasu volcanic zone, including Mt. Shirane (elevation 2,578m), which is the highest peak in the northern Kanto region, Mt. Nantai (elevation 2,486m), which has long been famous as a mountain of worship, and is still a volcano. Mountains such as Mt. Nasu (elevation 1,917m), which is active, are distributed. In addition, plateaus spread out at the foot of these mountains, and lakes and marshes caused by volcanic activity, magnificent waterfalls, and beautiful valleys of autumn colors add color to them.
On the other hand, you can see a wonderful fusion of many historical buildings such as shrines and temples registered as World Heritage Sites and the natural landscape surrounding them.
Nikko National Park is easily accessible by rail and car from the Tokyo metropolitan area, and is very popular as a place where you can easily get to know nature and historical culture.
Japan's largest mountainous wetland surrounded by famous peaks and full of flowers
Designation: August 30, 2007 Area: 37,200ha
Fukushima prefecture, Tochigi prefecture, Gunma prefecture, Niigata prefecture
Oze National Park has a long history and was designated as a part of Nikko National Park in 1934, but in 2007, the Oze area was divided from Nikko National Park and Mt. Aizu Komagatake and Mt. Tashiro. , The surrounding area such as Mt. Tashiro was incorporated, and it was designated as the 29th national park.
The name of Oze is also widely known in the national favorite song "Summer Memories", Ozegahara, the largest high moor in Honshu, Ozenuma, which was created by the eruption blocking the headwaters of the Tadami River. It features a beautiful landscape of mountains such as Mt. Shibutsu, Mt. Hiuchigatake, Mt. Aizu Komagatake, Mt. Tashiro, and Mt. Teishaku.
In addition, Oze has been in danger of development many times in the past, but thanks to the efforts of many people, precious nature is still preserved today, and it is also called the "origin of nature conservation" in Japan. ..

Superb view pilgrimage model course
A pilgrimage with a spectacular view of the clear air
Fukushima Prefecture, which is blessed with abundant nature,
It shows a variety of expressions in each of the four seasons.
In search of a spectacular view that I haven't seen yet
Why don't you go on a blissful journey?

List of related links
Fukushima Green Reconstruction concept Council composition Municipalities