"Contaminated water" refers to radiation-tainted water.
Under the ground of the Fukushima Daiichi Nuclear Power Station, there is groundwater flowing toward the sea. Every day, approx. 100 to 200 tons of this groundwater flows into reactor buildings Nos. 1 to 4, which were affected by the nuclear disaster. In the underground area of those reactor buildings, groundwater is flowing into this highly-concentrated, contaminated water, thus increasing the overall volume of contaminated stuff.
Under the "Three Principles," various measures are being taken to prevent the contaminated water from flowing into the sea.
The Three Principles guiding the measures taken against contaminated water
Remove the contamination source.
Prevent groundwater from approaching the contamination source.
Do not allow leakage.
Measures against contaminated water
Groundwater seeps into the nuclear reactor buildings, causing an increase of 150m3/day of contaminated water. The following measures are being taken at the F1NPS for the processing and control of the contaminated water.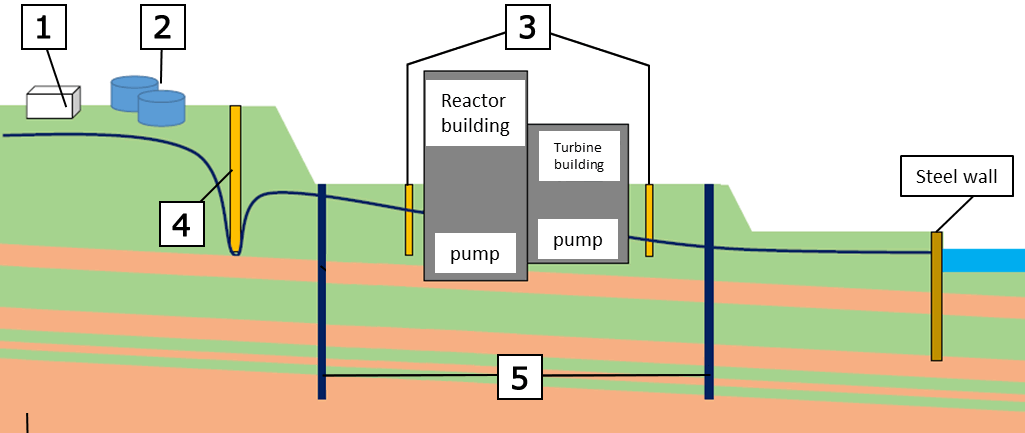 1.ALPS
| | |
| --- | --- |
| | Removing radioactive substances (except tritium) from contaminated water. |
2.Contaminated Water Tanks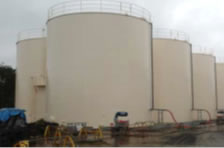 3.Sub-drain
Pumping of groundwater from the wells around the buildings allows control of the amount of water seeping into the buildings. Water pumped will go through the purification process, and be discharged to the sea only if the radiation levels are confirmed to meet discharge standards.
4.Underground water bypass
| | |
| --- | --- |
| | By pumping up groundwater before it is contaminated using wells located on the mountain side of the site and discharging it into the sea, the amount of groundwater seeping into the buildings can be controlled . |
5.Cryogenic ice wall
| | |
| --- | --- |
| | By embedding freezing pipes around the building, groundwater and soil can be frozen to make ice walls. This system prevents water from approaching the reactor building and suppresses the flow of groundwater. |